The Heinz Ebert Collection consists of over a thousand pages of original articles and memorabilia concerning the German composer Felix Draeseke (1835-1913). A considerable number of original newspaper articles from the time of Draeseke's life are included as are many items originating from the period immediately after his death to the present day.
The collection was assembled and organized by the Treasurer of the Internationale Draeseke Gesellschaft (IDG) dipl. ing. Heinz Ebert (Neustadt/Coburg); Ebert is also related to the Draeseke family. The originals were assembled in print copy and remain in the possession of Heinz Ebert. The materials were carefully scanned by Sigrid Brandenberg and were edited and prepared for the Draeseke website by Dr. Robert Rej. The web format follows closely the organization of the print version, but some deviations and enhancements, suitable for web presentation, have been made. The web version contains improved indexes and also incorporates a number of minor corrections. Specific articles elsewhere in the Draeseke website will eventually link to the original documents as appropriate.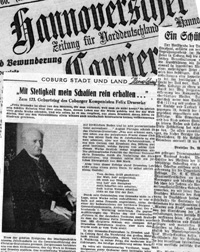 In promulgating the Heinz Ebert Collection in this electronic format, the IDG makes available unprecedented access to these materials. The digital format ensures that further deterioration of the originals will not deter future scholars and interested persons from access. Due to the age of many of the newspaper articles, the quality of the images presented may not be ideal, particularly of older materials where the pages have become considerably yellowed. In order to optimize presentation for the web, graphics are provided in jpeg format at a resolution of approximately 900 x 1250. Each image was enhanced to improve contrast and sharpness and all web pages are quite readable. Members of the Internationale Draeseke Gesellschaft and International Draeseke Society/North America have the additional opportunity to obtain a complete copy of the collection on CD, or for personal download, in a high resolution format (image size of ca 1200 x 1600) that will make reading the material still easier.
Links to the collection:

Diese Seite ist auch in Deutsch verfügbar.