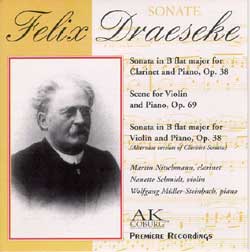 Dating from 1887, the clarinet sonata is a lovely, pastoral work, full of light and good spirits. It is the first duo sonata for clarinet of the Romantic period, predating Brahms, Reger, and Saint-Saëns. Draeseke prepared a version for the violin at the same time (the two were published together) with a minimum of changes required by the string instrument. The Scene (1899), the composer's only other composition for violin and piano, is a dramatic work which makes use of two themes from Draeseke's unproduced opera Bertran de Born (1894).
"There are no reservations here - the performers capture the spirit of the music, and play with technical polish as well. ... This disc is a gem." Henry Fogel, Fanfare, Nov/Dec 2000. Read the entire review.
Listen to the finale of the Clarinet Sonata (mp3).
Read more about this music: Clarinet Sonata, Violin Sonata, Scene for Violin.