Felix Draeseke Program to include:
Clarinet Sonata in B flat op 38

Viola Sonata No. 2 in F, WoO 26

Quintet in F for Strings, op. 77

(newly made arrangement for string quartet and double bass by Anthony Scelba)
The performers are all members of the Concert Artist Faculty of Kean University: Brennan Sweet, violin; Vicky Stewart, violin; Brett Deubner, viola; Na-Young Baek, cello; Anthony Scelba, double bass; Alex Fiterstein, clarinet; and Gabriela Martinez, piano.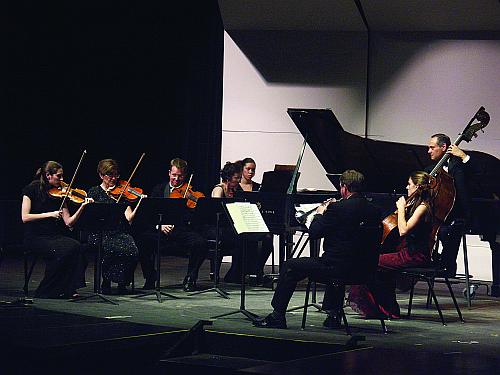 About the Music:
Read about the works to be performed:


Clarinet Sonata in B flat op 38


Viola Sonata No. 2 in F, WoO 26


Quintet in F for Strings, op. 77


Audio excerpts (mp3) are available by clicking the icon:

About the artists:
Brennan Sweet, concert artist in violin, was born in New York City but began violin studies at two years of age in Edmonton, Alberta. In 1977 he studied at the Franz Liszt Academy of Music in Budapest, Hungary. Beginning his college education as an engineering student, he earned a Bachelor of Music degree from Indiana University, where he served for three years as teaching assistant to the eminent Josef Gingold. He then joined the Indiana faculty for two years as Lecturer in Violin. Concertmaster of several orchestras including the Evansville Philharmonic Orchestra and Owensboro Symphony Orchestra, Professor Sweet was also a founding member of the Evansville String Quartet. He performed two seasons as Assistant Concertmaster of the Colorado Music Festival in Boulder. He joined the New Jersey Symphony Orchestra in 1994 as Associate Concertmaster and subsequently led the orchestra as Acting Concertmaster for three seasons under Zdenek Macal. In 2003 he was named Concertmaster of the Brooklyn Philharmonic Orchestra, a position he currently holds in conjunction with the Associate Concertmaster position of the NJSO. Professor Sweet performs on the 1713 Antonio Stradivarius ex "Prince Ferdinand of Bavaria" violin from the New Jersey Symphony Orchestra Golden Age Collection. He joined the Concert Artist Faculty of Kean University in 2007.
Victoria Stewart, concert artist in violin and chamber music, has degrees from the University of Houston and Baylor University, and did graduate work at the Juilliard School. Her major teachers were Oscar Shumsky, Joseph Fuchs, and Fredell Lack. She is founder and Executive Director of the newly formed Arco Ensemble, a New Jersey based string chamber orchestra. Ms Stewart is Assistant Concertmaster of the New Jersey State Opera, Principal Second Violinist of the Teatro Grattacielo, and Principal Second Violinist of the Colonial Symphony, where she has appeared as concerto soloist. She is a member of the Westfield Symphony and of the Glimmerglass Opera Orchestra and performs regularly with many musical organizations in New York and New Jersey, including the Long Island Philharmonic and the Long Island Masterwork Chorus. She has made premiere recordings with the Bronx Arts Ensemble and with the Glimmerglass Opera. Former positions include Principal Second Violin of the New Jersey Symphony, Concertmaster of Carolina Opera, Assistant Concertmaster of the Texas Opera Theater, Houston Grand Opera, and New York City Opera. As recipient of a Fulbright Performing Artist Award, she performed as Co-concertmaster of the Seoul Philharmonic and appeared as soloist with that orchestra and the Pusan Symphony. Her varied chamber music performances include appearances in major venues and summer festivals, including the Sejong Cultural Center in Seoul, the Kennedy Center, Carnegie Recital Hall, the Grand Teton Festival, and the Glimmerglass Opera Festival. She is Violinist of the Yardarm Trio and was appointed to the Kean University Faculty in 2002.
Brett Deubner, concert artist in viola and one of this generations leading violists, has thrilled audiences with his technical mastery and soulful playing. The New Jersey Star-Ledger said, "There is a burning intensity to Deubner's playing, and a refreshing variation in the color of his viola tone." Brett Deubner has made concerto appearances with the New Jersey Symphony Orchestra, the Knoxville Symphony, the North Shore Philharmonic of Boston, the Eastman Philharmonia, as well as the Bacchanalia Chamber Orchestra in New York City. Upcoming solo appearances include performances with the National Symphony Orchestra of the Ukraine and Orchestra 2001 at the Kimmel Center in Philadelphia and the release of a recording of two concertos with the New Symphony Orchestra of Sofia, Bulgaria on the Albany label. He has premiered and received viola concerto dedications by Lalo Schifrin, Samuel Adler, Andrew Rudin, Frank Lewin, Trent Johnson, Frank Ezra Levy, Sergio Parotti and Jose Lezcano. Chamber music commissions include works by David Del Tredici, Joelle Wallach, Edie Hill, David Sampson, Raymond Wojik, Matthew Halper, Paul Mack Somers and Andrew Rudin. He has performed with members of the Tokyo, Vermeer, Cassatt, Chicago, and Colorado quartet, as well as the Amadeus and Claremont Trios. Mr. Deubner has been on the Concert Artist Faculty at Kean University since 2004.
Na-Young Baek, guest artist and cellist, holds a B.A. from the Curtis Institute of Music, M.A. from Yale University, A.D. from the Juilliard School, and a D.M.A. from Stony Brook University. Her teachers include Orlando Cole, Aldo Parisot, and Colin Carr, and at the end of her study with Aldo Parisot, she was awarded an "Aldo Parisot Prize" for being the most promising young cellist. Her doctoral studies lead her to a wide variety of repertoire from Biber to Gubaidulina, and her dissertation, Historically Informed Playing of Bach Suite No. 5, was based on the comparison of the fifth cello suite with the g minor suite for Lute. She was the first prizewinner of the Philadelphia Orchestra Competition, Hudson Valley Philharmonic Competition, and Holland-America Music Society Competition. She made her orchestra debut with the Philadelphia Orchestra, and played with the Hudson Valley Philharmonic, DuPage Symphony, Seoul Philharmonic, and the Korean Chamber Ensemble in major venues including the Academy House in Philadelphia and Rheingau Musik Festival in Germany. She made her NYC debut in Carnegie Hall, and her Dame Myra Hess concert series recital was broadcast live in Chicago. An avid chamber musician, she was invited to and played at the Marlboro Music Festival for three summers and will be playing in the "Musicians From Marlboro" tour in December 2008. She as made chamber music appearances in the Aspen Music Festival, Isaac Stern Seminar in Israel, Schleswig-Holstein Music Festival in Germany, and was featured in Carnegie Hall, the Kennedy Center, the Salle Gaveau in Paris, Cadogan Hall in London, and on NPR's "Performance Today." Na-Young is a member of the New Jersey Symphony Orchestra and Sejong Soloists and plays on a cello by Giovanni Grancino, circa 1656, from the New Jersey Symphony's Golden Age Collection.
Anthony Scelba, Professor and Chair of the Department of Music at Kean University, is founder and Director of its acclaimed Concert Artist Program. He was the first person to receive a Doctor of Musical Arts Degree in double bass performance from the Juilliard School. He has a Bachelor's and two Master's degrees from the Manhattan School of Music. As a recitalist and a chamber musician, he performs and lectures internationally. He was for five years a member of the Orquesta del Festival Casals in San Juan, Puerto Rico. For 10 years he served as Principal Double Bassist of the New Jersey Symphony Orchestra. The founder of the Yardarm Trio, he is unusual among double bassists in specializing in chamber music, and he has greatly expanded his instrument's chamber-music repertoire. He was a 1983-1984 winner of the Fulbright Performing-Artist Award for Seoul, Korea, has given masterclasses in Beijing and Shanghai at the request of the Chinese Musicians' Association; he judged Brazil's first National Double Bass Competition; he has been invited to perform and give masterclasses in Scotland, Spain, Brazil, and throughout the U.S. He has taught on the faculties of Baylor University; the Hartt School, University of Hartford; and the Manhattan School of Music. The Washington Post called his chamber-music performance at the Kennedy Center "inspiring". Classical New Jersey said he is a player of "top caliber...Scelba's tone was vibrant and his technique formidable".
Alexander Fiterstein, concert artist in clarinet, is the First Prize winner of the 2001 Carl Nielsen International Clarinet Competition, and the First Prize winner of the 2001 Young Concert Artists International Auditions (YCA). He is a recipient of the Bunkamura Orchard Hall award in Tokyo, and a first prizewinner of the "Aviv" competitions in Israel. He has received awards from the America-Israel cultural foundation since 1991. Mr. Fiterstein has performed as soloist with the Vienna Chamber Orchestra, the Orchestra of St. Luke's, the Tokyo Philharmonic Orchestra, the Israel Chamber Orchestra, the Danish National Radio Symphony Orchestra, the Jerusalem Symphony, and the China National Symphony Orchestra in Beijing. He has appeared in recital on the "Music at the Supreme Court" Series, at the National Gallery of Art, the Kennedy Center, the 92nd Street Y, Carnegie's Weill Hall, Isabella Stewart Gardner Museum, the Louvre in Paris, Suntory Hall in Tokyo, and the Tel-Aviv museum. He was chosen as a member of the Chamber Music Society of Lincoln Center's Chamber Music Society II for the seasons 2004-2006. He has participated in the Marlboro Music Festival since 2001, and has toured with Musicians from Marlboro, and has performed chamber music with Daniel Barenboim, Richard Goode, Emanuel Ax, and the Avalon, Borromeo, Colorado, Daedalus and Jerusalem string quartets. He has worked with composers John Corigliano and Osvaldo Golijov, and has had pieces written for him by Samuel Adler, Mason Bates, Betti Olivero and others. The Washington Post has said of him" Fiterstein treats his instrument as his own personal voice, dazzling in it's spectrum of colors, agility and range." Professor Fiterstein was appointed to the Kean University faculty in 2005.
Venezuelan Gabriela Martinez, concert artist in piano, earned her Bachelor and Master of Music degrees from the Juilliard School, under full scholarship, as a student of Yoheved Kaplinsky. In her sophomore year, she won the Juilliard Piano Competition. Subsequently she won first prize at the 2003 Anton Rubinstein International Piano Competition in Dresden and became a semifinalist at the 12th Van Cliburn International Piano Competition, where she received a Jury Discretionary Award. She has performed as soloist with orchestra, as chamber musician, and as recitalist in prestigious venues worldwide including Carnegie Hall, Avery Fischer Hall, Alice Tully Hall, the New Jersey Performing Arts Center, Grosses Festspielhaus in Salzburg, Semperoper in Dresden, Tivoli Gardens in Copenhagen, the Verbier Festival and Academy, Snow and Symphony Festival in St. Moritz, Festival de Radio France et Montpellier, Festival dei Due Mondi, and the Mostly Mozart and Tokyo International music festivals. She has appeared as soloist with the New Jersey, Fort Worth, and San Francisco Symphonies; Stuttgarter Philharmoniker; Symphonisches Staatsorchester Halle; Tivoli Philharmonic; and the Simón Bolivar Orchestra under Gustavo Dudamel. Her mother is a graduate of Kean University and Gabriela studied Music History there before matriculating at Juilliard. She was appointed to the Concert Artist Faculty in 2008.
About the Concert Artist Program:
The Concert Artist Program of Kean University (formerly called the "Affiliate Artist Program") brings world-renowned performing musicians onto the faculty of its vital and growing Music Department. While maintaining their successful careers as professional performers, Concert Artists perform solo, chamber music, and jazz recitals at Kean, teach private, weekly studio lessons to Kean students, and conduct masterclasses and other community outreach services in the public schools and junior colleges. Some Concert Artists also coach ensembles and teach classroom courses related to their specialties.
Dr. Anthony Scelba first proposed the Program in 1998 as part of an overall plan for advancement of the Music Department. Since then the Program has expanded from three to eighteen Concert Artists. Musicians are chosen for the program after a regional search. Eminent artists with high reputations for excellence and thriving careers, who are eager to devote themselves to Kean as performers and teachers, and who would contribute to the Program's outstanding chamber music series are selected.
Concert Artist performances are helping to realize President Dawood Farahi's vision to make Kean University an artistic and cultural center for the region.
The CAP has been awarded HEART Grants by the Board of Chosen Freeholders of Union County and support from the Music Performance Trust Fund of the American Federation of Musicians for their performances in the public schools.
Since the program's inception, Kean's Concert Artists individually have performed as soloists and chamber musicians here and abroad, recorded CDs, been nominated for a Grammy and several Latin Grammies, performed on Live from Lincoln Center and Kennedy Center broadcasts, won glowing reviews (including 4 1/2 stars from Down Beat Magazine), debuted at prestigious venues and received numerous awards and recognitions. In 2004, "Concert Artist" was recognized by Kean University as a distinct category of faculty.
Information about these wonderful musicians, about the Concert Artist Performance Series, and about their two CDs—the crossover album, The Great Kean Way: Concert Artists on Broadway and Schubertiana—can be found at http://www.keanconcertartists.com.