Friday, February 27th, 2004, 8 p.m
Sunday, February 29th, 2004, 7 p.m.
State Theater Cottbus
5th Philharmonic Concert
FELIX DRAESEKE (1835-1913)
Concerto for piano and orchestra op. 36
NICOLAI RIMSKY-KORSAKOV (1844-1908)
Sheherazade op. 35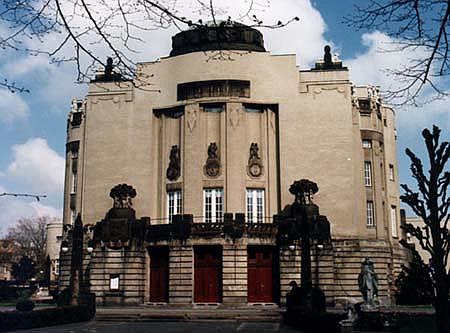 Philharmonic Orchestra of the State Theater Cottbus
Conductor: GMD Reinhard Petersen
Soloist: Oliver Triendl
Read Reviews
Read Program Notes
Reinhard Petersen: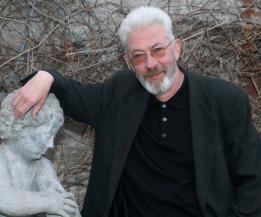 Reinhard Petersen wurde 1943 in Hamburg als Sohn eines Kirchenmusikers geboren. Seine musikalische Ausbildung erhielt er an der Hochschule für Musik in Hamburg im Fach Klavier und Posaune und in der Meisterklasse von Prof. Wilhelm Brückner-Rüggeberg im Fach Dirigieren. 1965 verpflichtete ihn das Staatstheater Hannover als Repetitor. 1967 wurde er dort 2. Kapellmeister. 1972 wechselte er an das Opernhaus Wuppertal als 1. Kapellmeister. Nach erfolgreichem Debüt an der Hamburgischen Staatsoper als Gastdirigent wurde er dort 1975 1. Kapellmeister. 1976 berief die Stadt Coburg Reinhard Petersen zu ihrem Generalmusikdirektor. 1981 ging er an das Opernhaus Nürnberg und wechselte 1986 als Generalmusikdirektor nach Trier und wurde 1991 auch Intendant des Theaters der Stadt Trier. Seit dem 1. Januar 1995 ist er Generalmusikdirektor am Staatstheater Cottbus.Gastdirigate führten ihn u.a. an die Opernhäuser Bremen, Darmstadt, Frankfurt, Mannheim, Nürnberg, Prag und St. Gallen. Viele Gastkonzerte gab er in Deutschland mit den Bamberger Symphonikern, der Staatskapelle Weimar und den Orchestern von Bielefeld, Bremen, Essen, Gotha, München, Nürnberg, Oldenburg, Solingen und Wuppertal sowie im Ausland (Sevilla, Shanghai, St. Gallen, Zielona Gora). Von 1985 bis 1988 leitete er die Finalrunden beim ARD-Wettbewerb, München.
Reinhard Petersen, son of a church musician, was born in Hamburg in 1943. He obtained his musical education (piano and trombone) at the Hochschule für Musik in Hamburg and in the master class of Prof. Wilhelm Brückner-Rüggeberg (conducting). In 1965 the State Theater Hanover engaged him as répétiteur; two years later he became second musical director. In 1972 he became first musical director at the Wuppertal opera house. After his successful debut as guest conductor at the Hamburg State Opera he took the post of first musical director there in 1975. In 1976 the town of Coburg (Bavaria) appointed Reinhard Petersen to municipal musical director. In 1981 he left for the Nuremberg Opera. In 1986 he took the post of municipal musical director in Trier where he also became theater director in 1991. Since January 1st, 1995, he is municipal musical director at the State Theater Cottbus. As guest conductor he worked in the opera houses of Bremen, Darmstadt, Frankfurt on the Main, Mannheim, Nuremberg, Prague, and Saint Gallen.He gave guest performances in Germany (Bamberg Symphony Orchestra, Weimar State Orchestra, the orchestras of Bielefeld, Bremen, Essen, Gotha, Munich, Nuremberg, Oldenburg, Solingen, and Wuppertal) as well as abroad (Seville, Shanghai, Saint Gallen, and Zielona Gora).From 1985 to 1988 the finals of the Music Contest of German Television (ARD) in Munich were conducted by Mr Petersen. He first conducted Felix Draeseke's Piano Concerto in 1979 in Coburg.

Oliver Triendl: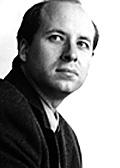 Bereits im Alter von vier Jahren erhielt Oliver Triendl vom Vater den ersten Klavierunterricht, bevor er sein Studium bei Gerhard Oppitz und Oleg Maisenberg in München, Stuttgart und Wien aufnahm. 1996 wurde er mit dem Bayerischen Staatsförderpreis bedacht, und ein weiterer Erster Preis folgte beim Internationalen Kammermusikwettbewerb in Triest. Seine rege Konzerttätigkeit führt ihn in die Musikmetropolen Europas, wo er mit namhaften Orchestern wie den Münchner Philharmonikern oder dem Mozarteum-Orchester Salzburg zu hören ist; weitere Konzerte gibt er in Amerika, Südafrika und Japan. Als leidenschaftlicher Kammermusiker tritt Oliver Triendl zudem an der Seite von bedeutenden Instrumentalsolisten wie Sabine Meyer oder Ingolf Turban auf. Sein umfangreiches Repertoire wird durch zahlreiche CD-Einspielungen dokumentiert.
At the age of four, Oliver Triendl took his first piano lessons from his father before beginning his studies with Gerhard Oppitz and Oleg Maisenberg in Munich, Stuttgart and Vienna. In 1996 he was awarded the Bavarian State Encouragement Prize, and first prize at the International Chamber Music Competition in Trieste. His active concert activity has taken him to the musical capitals of Europe, where he has performed with major orchestras including the Munich Philharmonic and the Mozarteum Orchestra in Salzburg. he has performed in the United States, South Africa, and Japan. A passionate chamber musician, Oliver Triendl also appears at the side of such significant instrumental soloists as Sabine Meyer and Ingolf Turban. His sizable repertoire is documented on a number of CD's.