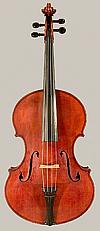 It is most unusual for a chamber music ensemble to have a set of matching instruments on which to perform. Most performers acquire their own instruments independently from their colleagues according to their own tastes and financial means. Inevitably there are tonal differences between instruments made by different makers who came (or come) from different countries and time periods. These differences may be used to highlight the interplay of different voices in the music, but a unique blend may be achieved when a group has access to a set of matching instruments. Two such groups in the 20th Century were the Paganini Quartet which performed on four instruments made by Antonio Stradivari, and the Tokyo String Quartet which had a set of instruments by Amati.
The instruments played in this series of concerts provide a unique example of such a blend as they are all examples of the work of the German inventor Dr. Alfred Stelzner (1852-1906). Growing up in Hamburg, Stelzner studied violin and piano, and eventually gained a doctoral degree in mathematics and physics from the University of Heidelberg. He combined a lifelong passion for music with his expertise in acoustics derived from his doctoral studies. Stelzner believed he could achieve superior tonal results over the traditional violin family by creating the instruments using elliptical rather than circular shaped designs. He even invented two instruments to be added to the family.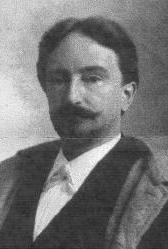 His violotta is tuned one octave below the violin and falls between the viola and cello in range. It is an instrument of remarkable beauty and was featured in several compositions from around 1900. The other newly created instrument was the cellone, tuned an octave below the violotta, and this instrument lies between the cello and double bass of the violin family. While Stelzner himself did not actually construct the instruments, he worked closely with fine German luthiers such as Richard Wiederman and Augustus Paulus who made these beautiful instruments to Stelzner's exact specifications. The instruments performed tonight have been collected by Dr. James Christensen of Iowa City, and we would like to express our gratitude to Dr. Christensen for his generosity and enthusiastic support of this project.
Several prominent musicians, including Joseph Joachim, Eugène Ysaÿe, August Wilhemj, and David Popper were quite taken with Dr. Stelzner's instruments. Had Stelzner lived longer, he doubtlessly would have actively promoted his instruments. His tragic death came at a time before his instruments had gained wide acceptance. Thus his new instruments were metaphorically orphaned and lacked an advocate. The few works that were composed for these instruments have likewise remained relatively unknown. Some of these are compositions of striking beauty, written at the height of German Romanticism. Certainly they deserve to be performed. (One is immediately reminded of Schubert's Sonata for the arpeggione, another masterpiece which was composed for an instrument which failed to capture widespread attention.)
The works on these programs present two such masterpieces from the late nineteenth century. The composer Felix Draeseke (1835-1913) was so drawn to the tone of the violotta, that he composed the String Quintet in A Major for two violins, viola, violotta, and cello. The quintet received its first performance in 1897 in Dresden.
Draeseke was born in Coburg and decided early that he wished to be a musician. He was much influenced by Wagner and the New German School and after travels through Germany and Switzerland eventually took up a teaching position at the Dresden Conservatory in 1884. He continued to compose numerous works in many different genres, and married a former pupil with whom he shared a happy marriage until his death in 1913. Draeseke related that he composed this work to share his joy of the sound of the violotta. While the work was well received, it has received only a handful of performances since its composition owing to the scarcity of violottas, and performers on the instrument. The few performances that have occurred have usually featured the violotta part performed by a second cello. These concerts provide a truly unique opportunity to hear this fine composition performed in its original version with a set of instruments constructed on Dr. Stelzner's principles.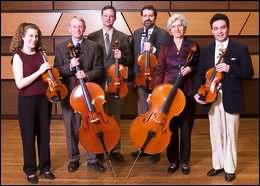 Another composer who fell under the spell of the beautiful sound of these instruments was Arnold Krug (1849-1904). Krug first studied music with his father, pianist and composer Diederich Krug. He later entered the Leipzig Conservatory and completed his studies in Berlin, studying piano with Reinecke and composition with Friedrich Kiel. After several teaching positions and travels through Italy and France as a Meyerbeer Fellow, he settled in Hamburg where taught at the conservatory and was active as director of several choral ensembles. Krug was much influenced by the classical-romantic style associated with Brahms. He composed much vocal music in all genres except opera. His String Sextet opus 68 is an example of his versatility as an instrumental composer, showing his desire to collaborate with Stelzner and the new instruments. The initial inspiration to compose this work was a competition held in 1896 designed to promote music for the violotta. Krug's sextet met with immediate success and earned him a first prize shared with composer Eduard Behm.
---
FELIX DRAESEKE: QUINTET in A MAJOR for 2 VIOLINS, VIOLA, VIOLOTTA AND CELLO, Wo0 25, "STELZNER QUINTET"
I. Sehr mäßig bewegt (Very moderate, moving)
II. Sanft bewegt, getragen (Gently moving, sustained)
III. Scherzo – Rasch und leicht bewegt; Trio – Ungefahr dasselbe Tempo, grazioso (Quick and easily flowing; Trio – about the same Tempo, grazioso)
IV. Finale – Frisch und keck (Fresh and saucy)
Intermission
ARNOLD KRUG: PREIS SEXTET in D MAJOR for 2 VIOLINS, VIOLA, VIOLOTTA, CELLO, AND CELLONE, opus 68
I. Allegro
II. Adagio tranquillo
III. Finale - Allegro

---
THE SUMMIT CHAMBER PLAYERS
Naomi Gjevre and Javier Pinell, violins
Jim Przygocki, viola
John Thomson, violotta
Barbara Thiem, cello
Rick Rognstad, cellone
The Performers:

NAOMI GJEVRE is Assistant Professor of Violin at the University of Wyoming and a founding member of the Lindsayan String Quartet. During the summers she is on the violin faculty at the Interlochen Arts Camp in Michigan. Dr. Gjevre has participated in several music festivals including the Aspen Music Festival, the Bowdoin Summer Music Festival, The Quartet Program, the Festival Internacional de la Cultura in Sucre, Bolivia, among others. Dr. Gjevre's orchestral experience includes the Savannah Symphony Orchestra, the Tallahassee Symphony Orchestra, and the North Carolina School of the Arts Orchestra with which she toured several European countries. Principal teachers include Roland and Almita Vamos, Karen Clarke, Eliot Chapo, and Oswald Lehnert. Her DM degree is from Florida State University 2002.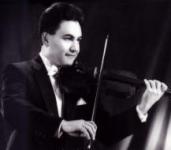 JAVIER PINELL is Assistant Professor of Violin at the University of Wyoming and a founding member of the Lindsayan String Quartet. During the summers he is on the violin faculty at the Interlochen Arts Camp in Michigan. As a scholar, Dr. Pinell has done pioneer research work on compositions for the violin by contemporary Bolivian composers. He released a disc recording: Bolivia: The Unknown Sounds in 1998. Appearances at festivals include the Echternach Festival in Luxembourg, the Mosel Musik Festival in Germany, the Festival Internacional de la Cultura in Sucre, Bolivia, among others. Principal teachers include Karen Clarke, Eliot Chapo. Hal Grossman, and Peter Michalica. His DM degree is from Florida State University 1999.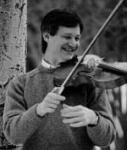 JAMES PRZYGOCKI is Associate Professor of Music at the University of Wyoming where he teaches viola, violin, and music education courses. He is also principal violist with the Cheyenne Symphony Orchestra, teaches at the String Academy of Wyoming, and is Director of the University of Wyoming String Project. In the summers Mr. Przygocki is on the faculty at Indiana University Summer String Academy. Mr. Przygocki is active as a performer, conductor and clinician. He has recorded for CRI and his viola transcriptions have been published by One World Strings. His teachers include Mimi Zweig, Jerry Horner, Rostislav Dubinsky, and Gerald Fischbach. He holds advances degrees from Western Michigan University and Indiana University.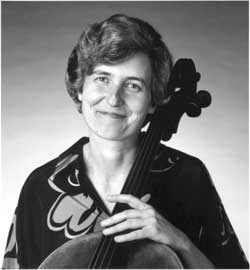 BARBARA THIEM teaches cello and chamber music on the faculty of the University of Wyoming and is artist-in-residence at Colorado State University. Her degrees are from Staatliche Hochschule fur Musik in Cologne, Germany and Indiana University. Her principal teachers were Siegfried Palm and Janos Starker. Ms. Thiem is active as soloist and chamber musician in the United State and Europe. She is a member of the Mendelssohn Trio and in the summers helps direct the International Summer Academy of Schloss Ort, Austria. In addition to concertising, she has recorded for many radio stations and has produced several cds. She has also published in the fields of cello technique and medical research.
Born in England, JOHN THOMSON moved to New Zealand where he studied violin with David Nalden. He came to the United State in 1985 as a Fulbright Scholar and with a Queen Elizabeth II Scholarship to study violin with Robert Davidovici and to gain Masters and Doctoral degrees in Violin Performance. Thomson has performed as soloist with orchestras throughout New Zealand and the USA, made appearances before dignitaries such as Queen Elizabeth II and former President George Bush, and has served as concertmaster for several orchestras. Critics have praised him as a "stellar soloist" with "brilliant technique and appealing cantabile" and have called his playing a "rare treat". Italian Violinist Franco Gulli wrote to Thomson after a performance "I have admired your remarkable facility in performing the music of Paganini." Thomson has enjoyed a variety of musical experiences, including the standard classical repertoire, but also frequently accompanying celebrities such as Frank Sinatra, Paul McCartney, and Bernadette Peters, and acting the part of musical characters in Hollywood movies. Thomson has taught at several universities and has been at the University of South Dakota since 1994. He is also in considerable demand as a conductor, and has led groups on both coasts of the USA and throughout the Midwest. He currently serves as concertmaster of the Northwest Iowa Symphony Orchestra and the Sioux City Symphony Orchestra.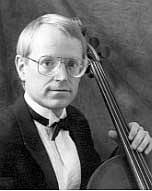 RICHARD ROGNSTAD has been at the University of South Dakota since 1986, where he conducts the USD Symphony Orchestra and teaches bass. Active as a guest conductor and clinician, he has led orchestras in South Dakota, Wyoming, Colorado, Iowa, Minnesota, and Florida. He has studied conducting extensively with Paul Wolfe, Jurgen de Lemos, Abraham Chavez, and at Indiana University. His bass teachers include Stuart Sankey, Barry Green, and Gaston Dufresne. He has served as principal bass for orchestras in Wyoming, Colorado, Florida, and South Dakota and has appeared as soloist and chamber musician in seventeen states and Canada. An expert in American music, Rognstad has published articles, liner notes, and reviews widely, and been instrumental in finding repertoire for the recordings of the Rawlins Piano Trio.