This fifth release brings a little bit of everything genre-wise, from the early song cycle "March Flowers" of 1860-1 (staking his place among the Liszt-Wagner school of radicals) to the 1911 Kleine Suite which was the last work Draeseke himself prepared for publication (strikingly up-to-date in its harmonies and counterpoint). In the middle are the 1877 suite of piano character pieces (often Schumannian), two lovely and lyrical horn works (1885)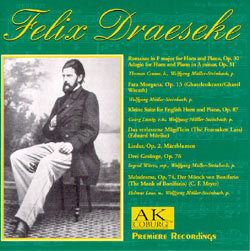 , and an example of that uniquely German romantic form - the melodrama (a 1901 setting of a poem dealing with events in 15th century Corsica). German-English texts. [TD 77:19]
"The performances are warmly involved and distinguished. Thomas Crome and Georg Lustig offer beauty of tone and phrasing, while Wolfgang Müller-Steinbach is both a sensitive accompanist, and a fine soloist with a discriminating sense of touch." Barry Brenesal, Fanfare: March/April 2005. Read the entire review.
Listen/download mp3:
Romanze in F for Horn and Piano
Märzblumen Lieder (Hochflut, op 2, vol 1, nr 6)
Little Suite for English Horn: Ghasele
Read more about the music on this CD: Little Suite for English Horn, Works for Horn and Piano, Heliotropen, Das verlassene Mägd'lein, Fata Morgana, Märzblumen Lieder, Der Mönch von Bonifazio.