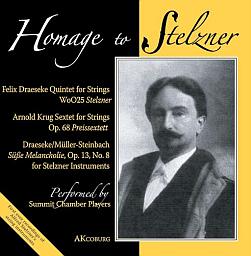 "...full of interest, and food for thought." Calum MacDonald International Record Review; September 2006
Dr. Alfred Stelzner redesigned the violin family according to modern 19th Century acoustical principles. He also invented two unique members of the family: the violotta, played on the arm like a viola but tuned a fourth below the viola, and the cellone, played on the knee like a cello but tuned a fourth below the cello. Felix Draeseke was attracted to the new design and composed his String Quintet in A for Stelzner instruments and included the violotta. In 1896 the Dresden Conservatory organized a competition intended to stimulate interest for the newly designed and developed members of the string family by Stelzner. The winning composition was Arnold Krug's sextet for combination of normal string quartet, violotta and cellone. This recording is the first ever of these - or any - works played on original Stelzner intruments. Recorded at the acoustically superb Edna Rizley Griffin Concert Hall, Colorado State University in 2005.
CD notes are available on line: Alfred Stelzner; Draeseke's Stelzner Quintet; Krug's Preis Sextet; Draeseke (arr: Müller-Steinbach) Süße Melancholie; Artists' biographies.
Download audio samples of this fine recording:
Click here to listen to the Scherzo of the Stelzner Quintet [mp3].
Click here to listen to the Adagio of the Krug Sextet [mp3].
Read more about this music and Stelzner's instruments:
Felix Draeseke and the new instruments of his time
Draeseke's Quintet in A, WoO 25 "Stelzner"
Dr. Alfred Stelzner: Pioneer in Violin Acoustics
Arnold Krug's Preis Sextet in D Major, op 68