Listen to excerpts of this recording (courtesy of AK/Coburg):
Listen to the Scherzo movement of the Stelzner Quintet on original instruments
Listen to part of the Adagio movement of the Krug Sextet
Listen to the Scherzo movement of the Stelzner Quintet on conventional instruments
Articles about the music:
•Dr. Alfred Stelzner: Pioneer in Violin Acoustics
•Draeseke and the New Instruments of his Time
•Quintet in F for violins (2), viola, and celli (2), op 77 (1901)
•Quintet In A Major For Two Violins, Viola, Violotta, and Cello,
Woo 25
•Krug: Preis Sextet in D Major for Two Violins, Viola, Violotta, Cello, and Cellone, op 68
Draeseke
String Quintets – F, Op. 77; A, WoO25, 'Stelzner'.
Acantus String Quartet (Wolfgang Hasleder, Megumi Makino, violins; Fridtjof Keil, viola; Nikolaus Gädeke, cello) with Johannes Hartmann (cello).
AK/Coburg DR0004 (full price, 1 hour). Producer Alan Krueck. Engineer Günter Appenheimer. Dates March 14th-16th, 2001.
Homage to Stelzner
Draeseke String Quintet in A, WoO25, 'Stelzner'.
Draeseke/Müller-Steinbach Fata Morgana, Op. 13 No. 8 – Süsse Melancholie.
Krug Sextet in D, Op. 68, 'Preissextett'.
The Summit Chamber Players (Naomi Gjevre, Javier Pinell, violins; James Przygocki, viola; John Thomson, violotta; Barbara Thiem, cello; Richard Rognstad, cellone). AK/Coburg DR0010 (full price, 59 minutes). Producer Alan Krueck. Engineer Günter Appenheimer. Dates May 22nd and 23rd, 2005.
The physicist, composer and instrument-maker Albert Stelzner (1852-1906) devoted much of his career to the reconfiguration of the bodies of string instruments and the enhancing of their acoustical properties. Among his many innovations two instruments attracted the attention of a number of composers: the violotta, tuned in fifths an octave below the violin – it's probably accurate to describe this as a kind of baritone viola – and the cellone, an enlarged cello tuned a fourth below the standard instrument. Stelzner composed operas that featured his instruments, and Max von Schillings used a violotta in his comic opera Der Pfeifertag, a work that had some popularity in its day but still awaits revival. In 1896 the Dresden Conservatory offered a prize for the best composition incorporating Stelzner's instruments, which was jointly won by Arnold Krug and Eduard Behm with sextets including both violotta and cellone. Felix Draeseke, by then a well-established composer, was a Professor at the Conservatory but did not enter the competition. Nevertheless the following year he composed a string quintet – his first – for two violins, viola, violotta and cello.
By this time Stelzner's business had gone bankrupt, and though he found a few backers to enable him to continue production for a while (he made some 300 instruments in all), his troubles continued to mount and he shot himself in 1906. Despite the many testimonials they garnered in his lifetime – from Joachim, Popper, Sauret and Ysaÿe among others – Stelzner and his instruments have largely been forgotten over the past century. But current interest in some of the long-neglected composers of the nineteenth century, notably Draeseke, has begun to focus attention on this curious episode and on the Stelzner instruments which still exist. AK/Coburg, which has produced several CDs devoted to Draeseke's works, has issued in recent years the two versions of his 'Stelzner' String Quintet evaluated in this review. The first disc dates from 2001 and presents the work with conventional instruments, a second cello standing in for the violotta; it's coupled with Draeseke's Second String Quintet, which uses exactly this orthodox line-up. On the newly issued 'Homage to Stelzner' CD, the Draeseke First Quintet is performed with violotta as originally intended and coupled with the prize-winning Sextet of Krug. The catalogue is thus enriched by three substantial examples of late-Romantic chamber music.
The 'standard-instrument' version of Draeseke's A major Quintet, as played by the Magdeburg-based Acantus String Quartet, makes it immediately apparent that this is a rather fine piece, almost Brahmsian in the singing nature of the first-movement melodies (the opening theme, given in this version to cello, is a wonderful tune) and the twoagainst- three rhythms of the second subject. Draeseke was good at first movements, being a natural contrapuntist and adept at motivic development. It's often the actual quality of his thematic invention that seems to me to lag behind that of his better-known contemporaries, but the materials of the Quintet's first movement, if rather nostalgic for the great days of Romanticism, are excellent: it's a beautiful movement that lingers in the memory. The three ensuing movements – a hymn-like slow movement, a trim little Scherzo and a perky finale marked Frisch und keck – seem to me slighter, but really everything in the work is attractive. That's to evaluate it as 'pure' music. But though the Acantus's performance is a fine one, the new version by The Summit Chamber Players is superior on two counts: the recorded sound is better, separating the often quite complex contrapuntal textures more effectively, and the presence of the genuine violotta is an undoubted plus. Draeseke entrusts the opening theme to it, and many salient passages thereafter, and it simply has an entirely different tone-colour from the cello, darker, more poignant and elegiac. As a result the expressive content of this Quintet, in its intended instrumentation, is decisively enhanced.
Now pretty well comprehensively forgotten, Arnold Krug (1849-1904) was born, lived and died in Hamburg, where he was noted as a choral conductor; he studied with Reinecke in Leipzig and taught piano in Berlin for a while. He was a prolific composer of orchestral, choral and chamber music – how long, I wonder, before we find ourselves listening to his Symphonic Prologue to Othello or his Violin Concerto? His prizewinning Sextet is in three movements, with a particularly expansive opening Allegro. Though Krug does not strike me as a composer on the highest level – not even the level of Draeseke – he was clearly a consummate musician cautiously extending the Mendelssohn-Reinecke-Schumann line in which he was brought up. The Sextet is full of attractive melody, in some cases perhaps too exhaustively worked out. It also derives an unusual sonority from the two Stelzner instruments. In general one is less aware of the violotta than the cellone that underpins the ensemble: a deep, rich voice that is clearly not a double-bass yet extends the work's compass downwards. But there are certain spots where Krug deliberately calls upon the unique tone-colour of both instruments: especially in some desolate, haunted episodes of the central Adagio tranquillo. As the booklet notes fairly comment, 'there are moments in the Sextet of almost eerie contrivance, unimaginable without the singular timbres of violotta and cellone (and, one must conclude, lost without them)'. Personally, though, I found the rumbustious finale the most immediately attractive part of the piece, with a rollicking swagger that seems pitched somewhere between Korngold and very early Vaughan Williams.
The filler on this disc is a transcription of a Draeseke piano piece, 'Süsse melancholie', for the same line-up as his Stelzner Quintet – two violins, viola, violotta and cello. It's a pretty bonne bouche, scored so that the violotta generally takes the lead. This is the work of the pianist Wolfgang Müller-Steinbach, who has performed the piano original, and several other Draeseke piano works, on other AK/Coburg discs. He also accompanies the cellist of The Summit Chamber Players, Barbara Thiem, in Draeseke's complete cello-piano works (which include an impressive Sonata) on AK/Coburg DR0002.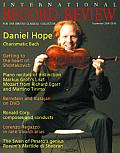 I've made clear my preference for the more recent performance of the Draeseke A major Quintet, with the violotta (the notes include a fascinating and exhaustively researched essay on Stelzner by James Christensen); but Draeseke enthusiasts – a modestly growing band, I perceive – will need to have both discs: not only because the Acantus String Quartet's account of the A major is very much more than merely acceptable, but because they couple it with the only recording of Draeseke's later, orthodox two-cello String Quintet in F. All the Draeseke string chamber music I have so far heard proves he had a natural gift for the medium, but this late Quintet (composed 1900-01) is the finest example: a marvellously inventive and deeply expressive piece. Its most remarkable feature is the gropingly chromatic, deeply melancholic introduction to the first movement, from which most of the work's materials derive. This is so advanced harmonically as to be situated somewhere on the borders of Verklärte Nacht, though Draeseke's expressive orientation is entirely different. Allan Kreuck's notes say the work 'moves in the realm of Beethoven's late string quartets', which is to give the music somewhat too exalted a significance. But this introduction is a remarkable inspiration, and Draeseke recalls it at important structural junctures in his first movement and finale. Once they get going these movements are in themselves altogether more positive and harmonically orthodox in outlook, and it is partly the polarity between their outgoing and fluent invention, with its individual spin on the Schubert-Brahms tradition, and this afflicted, crepuscular slow music, that lends the work its unusual character. On its last appearance, in the coda of the finale, this chromatic element is gradually and convincingly transformed into a slow and peaceful close in F major. In between these movements come a scintillating Scherzo (Draeseke was good at those, too) and a ravishingly expressive slow movement – all in all, enough for us to state that this is a neglected major work in its genre. Certainly both discs are full of interest, and food for thought.
Calum MacDonald
Reprinted, with permission, from: International Record Review; September 2006.
---
Related pages:
•Complete discography of music composed by Felix Draeseke
•Dr. Alfred Stelzner: Pioneer in Violin Acoustics
•Draeseke and the New Instruments of his Time
•Quintet in F for violins (2), viola, and celli (2), op 77 (1901)
•Quintet In A Major For Two Violins, Viola, Violotta, and Cello, Woo 25
•Krug: Preis Sextet in D Major for Two Violins, Viola, Violotta, Cello, and Cellone, op 68

[Home] [About IDG] [Discography] [Links] [Biography] [Vocal and Opera] [Orchestral Music] [Top]
© All contents copyright by the International Draeseke Society